All about me
I was born in Tupelo, Mississippi, in 1943, the youngest of identical twins with four older siblings.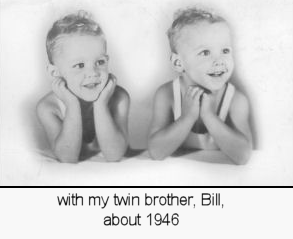 I grew up in Tupelo and Hattiesburg, Mississippi and later lived in Nashville, Tennessee and New York. In New York I worked for an organization called Everything for Everybody that provided housing, meals and clothing for the poor. There I met my wife, Gabi. We later moved back to my home state of Mississippi where we founded a similar organization called Persons Service. We also published an alternative weekly newspaper called Persons and a literary and arts magazine called Mississippi Arts & Letters — until we went bankrupt. 
In 1988 we moved to Olympia, Washington. We love it here.
I am an artist and writer.  My paintings have been widely shown throughout the Pacific Northwest. However, since having open heart surgery in 2002 I have stopped painting and I now focus my creative work on writing.
Since 2000 I have self-published seven novels:
Until the Dawn
Imprudent Zeal
The Wives of Marty Winters 
The Backside of Nowhere
Reunion at the Wetside
Return to Freedom
Visual Liberties
and a book of art criticism
As if Art Matters
I am a regular freelance contributor to:
Weekly Volcano (Tacoma, WA)
The News Tribune (Tacoma, WA)
Thurston Talk (Olympia, WA)
My art and theater reviews, personal comments, and new paintings posted weekly (or when completed) on my blog, South Sound Arts.
My wife, Gabi and I are proud PFLAG activists.  The following are all personal stories, some published and some unpublished.  
copyright © Alec Clayton 2009-2012